Easy C Rider - Ride Pictures 2009

Pictures from the May 24th 7HW Vanilla Bean ride in Pomfret CT
What a ride!
Four ECR's showed up, Dick, Walter, Bob C and Alex. Several of us had checked radar before coming, and it looked like there were T-storms, but that they would stay south of the route. Marty Twigg, who was ride leader, showed up and said he couldn't ride as he had forgotten his shoes in the rush to get down to CT. Perhaps this was a portend of things to come.
The first rain started just after mile 12 (of 38) ... it was moderate, and lasted for several miles. The road was wet much of the rest of the ride. After the Crandall House rest stop, Dick's rear derailer started acting up, possibly exacerbated by a new chain and the rain. About mile 29, the rain started again, this time accompanied by rumbling sound effects. At mile 30, like the sound of a gun-shot, Dick's new (60 miles) rear tire blew out.
| | |
| --- | --- |
| Changing a tire in the rain | . |
| What fun !! | . |
There was some discussion of the difficulty of the current end to the route vs. coming straight up Route 169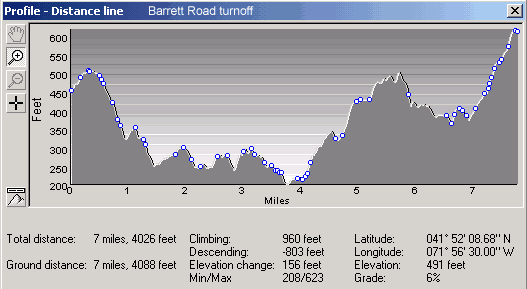 Neither one is particulary pleasant, and both are up-down-up. Profiles are from where routes split to where they rejoin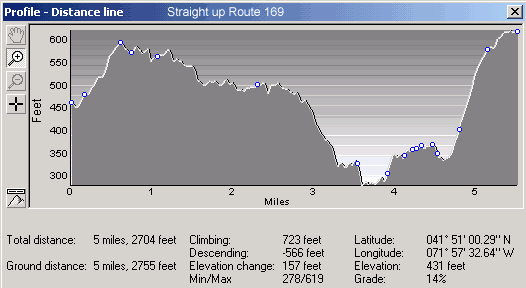 Straight up Route 169 seems to save 200+ ft of climbing, but its busier and straight, you can almost always see the hills ahead.
Last updated 05/25/2009